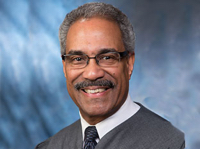 Chief Magistrate Gregory Clifford named 2021 Cleveland-Marshall Law Alumni of the Year
OAM Past-President Gregory Clifford has been named the 2021 Cleveland-Marshall Law Alumni Association Alumni of the Year recipient.  The 1980 Law Graduate has been drawn to leadership positions throughout his life.  Greg has spent the last 20 years as Chief Magistrate of the Cleveland Municipal Court.  At the courthouse, Clifford manages a staff of magistrates and supportive staff persons who handle small claims, traffic, misdemeanor, and civil cases.
Recognizing his leadership capabilities, Clifford's colleagues have elected him to serve as President of three associations – the Norman S. Minor Bar Association, Ohio Association of Magistrates, an
d the Cleveland-Marshall Law Alumni Association.  He considers being elected to serve in those presidencies to be the highlights of his career.
Greg has sought out leadership roles dating back to his time as a student at CSU Cleveland-Marshall.  While in law school, he served as President of the Black Law Students Association (BLSA) and as a senator on the CSU Student Government Association (SBA).
"The camaraderie and leadership experiences that I had at C|M|LAW helped to give me a heightened sense of confidence in myself, and direction for the purpose of my life's work to be in service to others," said Clifford.